After repeated requests, RainbowPuke.com has finally been completely redone so that I can update it frequently. In the past, it was made of static HTML pages and I had to wait until I had a large collection of new images before updating the site. With the new site design, however, I can now post your pieces of Rainbow Puke art on a far more regular basis! On top of that, now all of you can share your comments right here on the site. If you like a particular piece of Rainbow Puke art, be sure to drop a comment in the thread!

RainbowPuke exists so that fans of puking rainbows have a place to make their collective voices heard. In this celebration of the greatest dichotomy, you don't have to be an artist to join in the wave of multi-colored vomit that's sweeping the world. Simply email us at webmaster@i-mockery.com your best attempt at a drawing of a rainbow puking up a rainbow of colors and we'll post it here on RainbowPuke.com for everybody to see.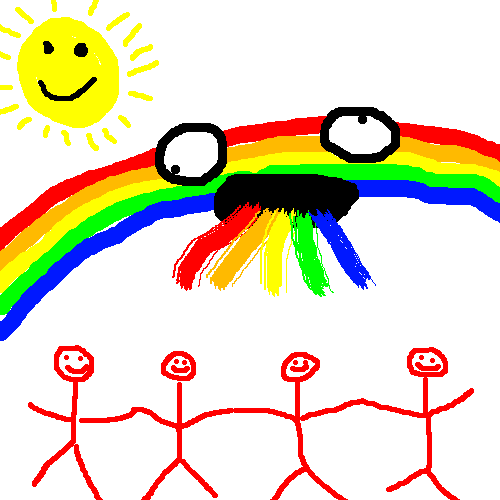 For those of you who want to see the original seven pages worth of Rainbow Puke artwork, you can view them at the following links: [page1] [page 2] [page 3] [page 4] [page 5] [page 6] [page 7]

Want to see your RainbowPuke drawing here on RainbowPuke.com?
15 Responses to "Welcome to the new and improved RainbowPuke.com!"